If you follow along on Instagram, you know I've been hatinggg my fashion sense lately. I'm talkin', I wake up, get dressed, and just feel MEH.
You know the feeling, right? You stare at your closet…hoping…PRAYING…inspiration will just jump out at you. And it just…doesn't.
So now I'm scrolling & scrolling at all the Pinterest girlies for outfit inspiration. And for a while, I'm DIYing it. Taking things from my closet that sorta fit the new vibe I'm going for.
But it just…isn't landing how I want it to.
I'm going for laidback, causal, artsy, coastal grandma. But instead I'm getting a style that's mismatched, filled with dull colors, and just straight up BORING.
Girl, I've ridden the DIY route far too long. If I want change, imma have to go shopping for it.
This weekend, I'm going to hit up all my favorite stores (if all goes well, maybe I'll give you a little update next Wednesday — helllloooo new cags eraaaa 💃)
Your business deserves a new era too, friend.
If you look at your branding the same way I look at my closet, it's time for a rebrand. I want you to be OBSESSED with it.
You wake up every damn morning ready to show it off just like I'm gonna be showing off all my new outfits on my Instagram stories.
But, if you're still not sure…here's 3 signs it's time to rebrand your business.
3 Signs it's time for a rebrand
1. You're blending in with everyone else in your industry
Look, I want you to have your MOMENT.
Think about all those early 2000s movies when the shy, underdog gets a glow up and she walks down the school hall.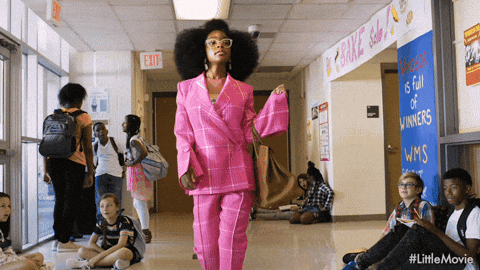 Everyone's turning their heads, jaws on the floor, & they're STUNNED. Suddenly, everyone wants to be her friend.
It's time your business has its moment to shine.
2. Your Branding isn't attracting your target audience
If you're a high end luxury brand, but have a casual, retro vibe to your branding…it just isn't going to speak to the right audience.
Could you image Gucci looking like that? If they did, you wouldn't assume they make luxury handbags.
3. Your branding isn't designed with strategy
At the end of the day, you want your branding to show show off the values you hold as a business. With every brand I design, I make sure all the foundational things are set in place through brand strategy.
Who is your ideal customer?
Who are your competitors and how can you stand out against them?
What is your brand's personality?
From there, I can create a creative direction that will align with that strategy.
---